*ONLY 54 total students can be accommodated!
Overview:
We'll be offering a season pass from Blue Mountain and Camelback. The pass includes a season pass to be used at either Blue or Camelback and transportation to Blue on 4 Thursdays. As a bonus, you'll get a $25 gift card to be used at True Blue (gear shop at Blue). If you use your pass not on ski club transportation dates, it must fall on a non-holiday Monday – Friday or weekends AFTER 3pm. However, Blue typically opens their mountain up to any pass holders the first week in March.
Dates of Trip
Thursday, 1/12/23
Thursday, 2/9/23
Thursday, 2/16/23
Thursday 3/2/23
Pricing
$329 ($229 for the pass payable to Blue Mountain, $100 payable to PVSD for transportation)
Itinerary
Students drop off gear to back entrance of Girl Locker Room between 720am – 745am

If you miss this window, you need to find a place to store your own gear
Drive to school? That is fine. You can keep gear in car

Pick up gear in locker room (we don't carry it for you)
Students will load bus in faculty/student lot by the pool (back entrance) at 2:30pm
Depart from PVHS at 2:45pm or 3 (we leave when we have everyone)
Arrive at Blue Mountain at 4:25pm
Depart from Blue Mountain at 9:00pm
Arrive back at PVHS (back entrance near pool) at 10:20pm
About
Blue Mountain is Pocono skiing and riding at its best. The trails are long, steep and have some great terrain parks. To join us for a trip to this great mountain, click here to sign up!
Click Here For More Information and the Conditions at Blue Mountain. Below is an image of the trail map.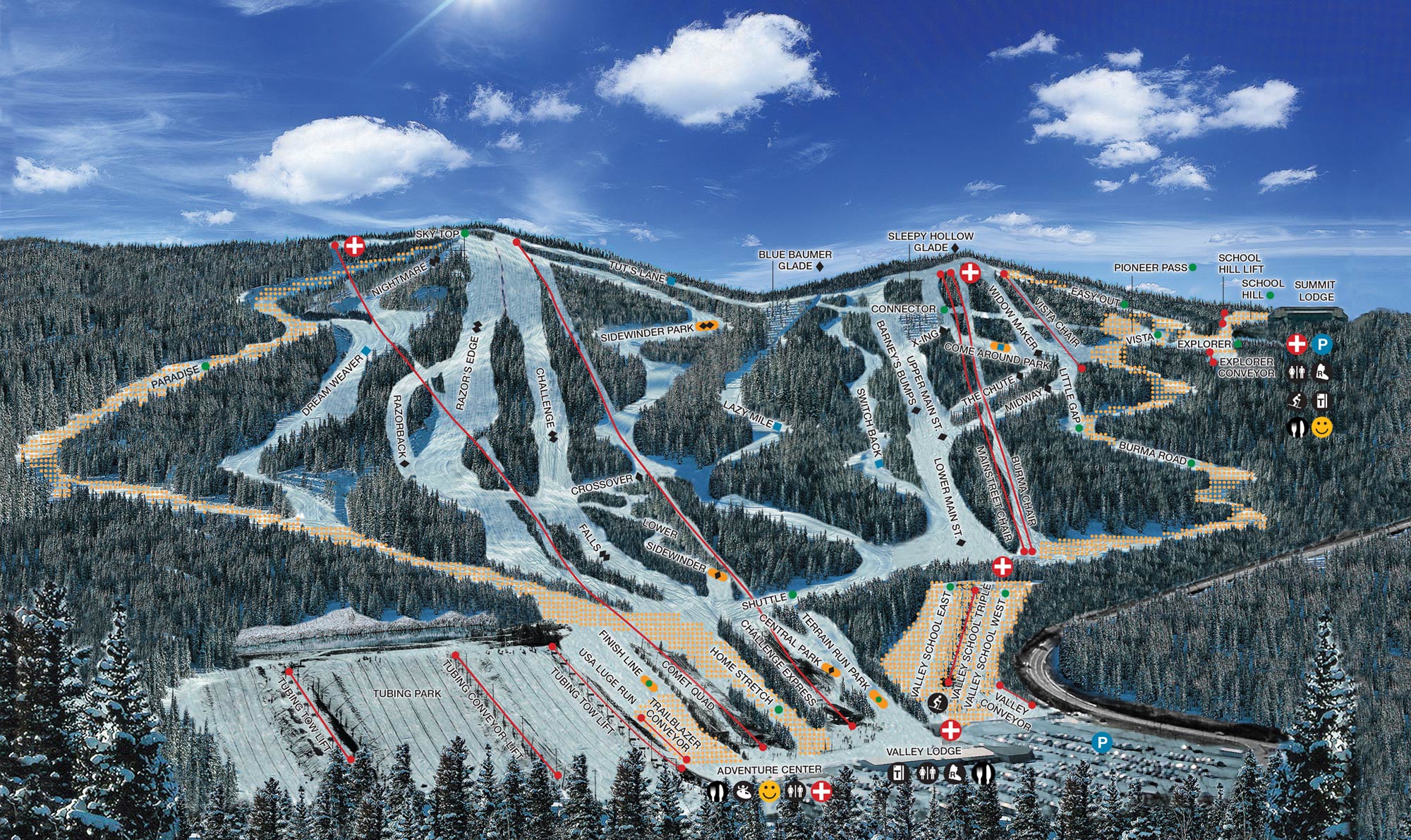 FAQ
What if I miss a trip?

You can make up a trip on your own time anytime Monday – Friday or use it after Blue opens the passes up to anytime (typically first week in March)

Can my pass be taken away?

Yes. If you do not follow the ski code (set by Ski Patrol), are late for departures from the mountain (you cause us to wait) or failure to adhere to any other trip rules.

Are there any refunds?

No. If you are sick, you will not get your bus money back. We are running the price of the pass based on number of paid students so we can't offer any refunds.

What if we cancel for weather?

If the mountain closes, we close. If our busing cancels the trip, we won't go. Other than that, we go. We will reschedule the trip if possible during another night (Monday – Thursday).